Cyber Week: Save 50%
Take advantage of the lowest prices of the year now and bring your music to the next level 🚀
Already own some PML products? Log in to get extra discounts on select products including bundle upgrades!
We've
worked
with:
Acoustic Melodic House Themes - Vol.4
BRAND NEW & OUT NOW!
Acoustic Melodic House Themes Vol. 4 is the ultimate fusion of the finest orchestral samples with today's Melodic House & Techno producers. Discover a collection of melodies, tonal percussion, and song starter loops, igniting boundless creative inspiration
We've
worked
with:
The BIGGEST SALE Of The Year At PML
Cyber Season prices now. Get 50% off every product including bundles!
BLK Friday Sale!
€297,00 €594,00
The Black Friday Deal! Save years of your life by starting with the right sounds and instructions. Start to Finish Courses & Masterclasses. Also: 5 full albums of (50+) fully editable Ableton Templates, brand new Collections of Serum & Diva Presets with signature sounds.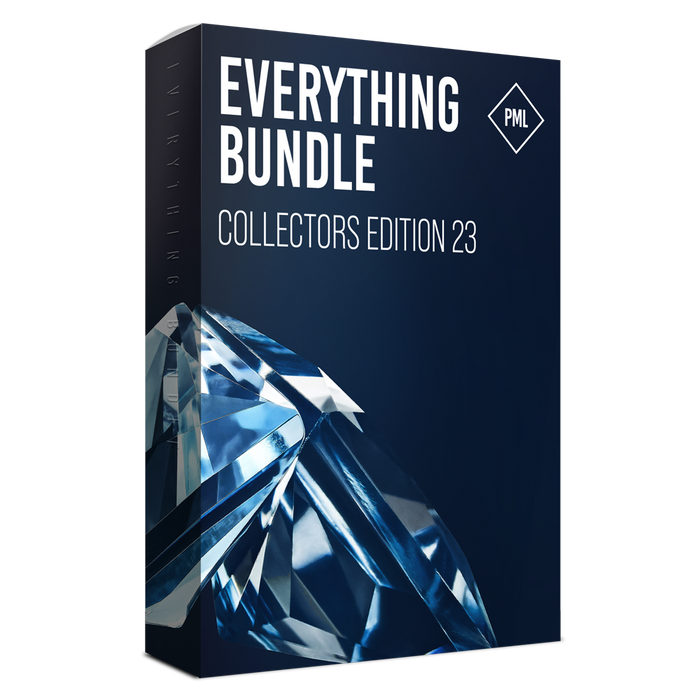 BLK Friday Sale!
€497,00 €994,00
The Complete Bundle for Music Producers who want to take it to the next level. This bundle includes all masterclasses, courses, sounds, samples, presets, midi as well as the latest artists production packs including the sound of the season.
BLK Friday Sale!
€118,50 €237,00
Get into the Modern Melodic Techno sound of the season. Start to Finish Course making a track & learning from professional producers and engineers working with today's top labels. Also included: a full album of (11+) fully produced Ableton Templates, new Serum Presets for Bass Stabs and signature sounds.
Problem Solvers
BLK Friday Sale!
€28,50 €57,00
Make your tracks sound more alive and natural with over 640+ Samples with 250+ one Shots and Organic Sounds and 390+ handcrafted loops. Plus 60 professionally made Diva Presets. Organica Template Edition includes 3 full Ableton Project Files.
BLK Friday Sale!
€18,50 €37,00
Ear candy for your track. Get 250+ professionally produced & processed vocal samples that will inspire and add life to your tracks including stutters, textures, pads, sequences, FX and more, all made from expert recorded vocals. 100% Royalty Free!
BLK Friday Sale!
€68,50 €137,00
This practical music theory and harmony bundle is the ultimate guide to understanding the inner workings of melodic house and techno. Through a combination of theoretical concepts and practical application, you'll learn essential theory/harmony concepts and tricks to use in everyday production.
Official Artist Cooperations
Products created in direct collaboration with today's best artists.
What Artists Say About Us
"It's getting so much easier the last years because there are so many videos on Youtube to help you get started! Also channels like Production Music Live post some cool tips and tricks!"
- Amelie Lens
Belgian DJ and Record Producer when asked what she recommends for learning Ableton Live on Instagram
"Working with the samples from Polaroit was really inspiring, fun and quick. Especially the piano chords & progressions provide an instant idea for a whole track. The drum hits & loops blend in seamlessly."
- Janus Rasmussen
Producer / Artist (Kiasmos) said about the Polaroit Sample Pack
"There are so many inspirational ready to use sounds in there, that I am sure it is going to be useful to most electronic music producers!"
- Jonas Saalbach
Producer (Radikon) said about the Deep & Tech House Songstarters Suite
"If you want to learn how to make a track in the style of my song 'Vale', then check out the course on Production Music Live. They explained everything using only Ableton Live and it's really, really interesting. Go check it out!"
- Ben Böhmer
Berlin based producer & live act. @benbohmermusic
"The Kicks & Ambiences of this pack are amazing. You can create your main loop within minutes. Good job!"
- Oscar L
Producer / DJ (Suara, Toolroom) said about PML's Weska Sample Pack
"I regularly recommend PML to my audience. The quality and affordability of their courses is pretty hard to beat!"
- ELPHNT
Tutor / Ableton Certified Trainer
"I have been an underground Techno Girl forever, but of course I love to work with high quality samples & sounds to get better results quicker. PML stuff definitely helps!"
- Stine Benz
DJ / Producer @stinebenz
"When I heard the samples from the Deep Premium Pack II back in the day I was instantly hooked and knew I have never heard better sounding and better fitting drum samples for the sound I wanted to do."
- Johannes Menzel
Techno Producer from Berlin Germany His song "Retaliate" got played by no one else than AMELIE LENS, UMEK, and many other top Techno DJs right now. @johannes.berlin
"I had not only fun, but also good results working with Weska's Pack. Definitely check it out!"
- Bart Skils
Producer / DJ (Drumcode) said about PML's Weska Sample Pack
"When I produce a new track I spend hours recording little fillers and organic grooves or phrases that make a song unique. With Organica you have a professionally recorded and great sounding library of natural sounds at your fingertips."
- Felix Raphael
Producer & Live Act (Stil vor Talent, YION) said about our Organica Production Suite
"Stil vor Talent wanted to release a Sample Pack Collection for quite some time now. With PML we have found the right partner and with Cioz the perfect producer to kick off this series. When I got the first copy of the pack I was blown away by the usability of the samples and loops - every sound is inspiring!"
- Oliver Koletzki
Berlin-based artist, DJ and Stil vor Talent label-owner