Production Music Live teaches
Get started with Ableton Live and make it your second home! After finishing this class, you will be able to produce your own Music.
---
---
All you need to make great tracks
Tap into our knowledge & Use the sounds we use
This class is your one and only stop to learn professional music production in Ableton Live. Our tutors and producers share everything they know and every sound they build. So you can focus on getting ideas out of your head and on to Spotify.
---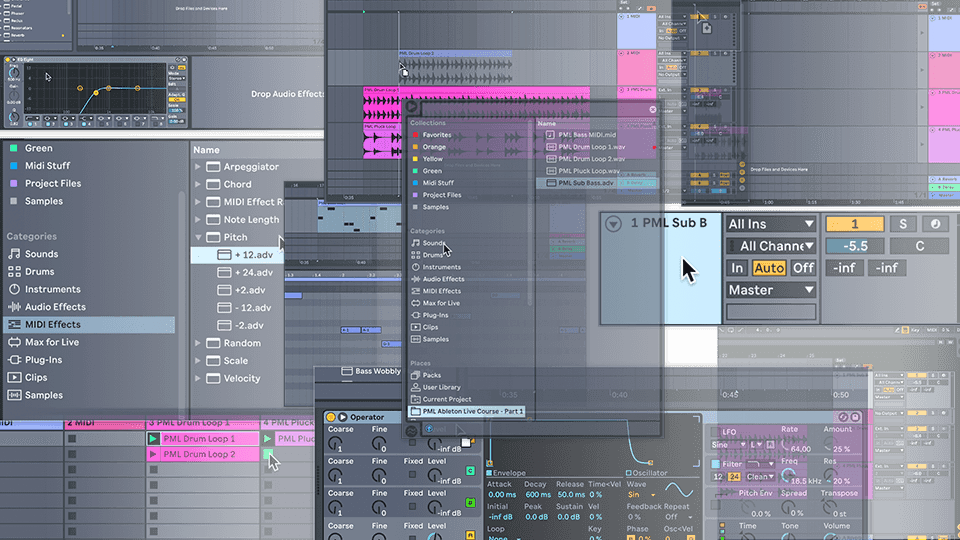 We will explain the whole interface in great detail: every knob, every function, every effect and everything else you need to know to produce your own tracks now! Nothing will be left untouched or unexplained.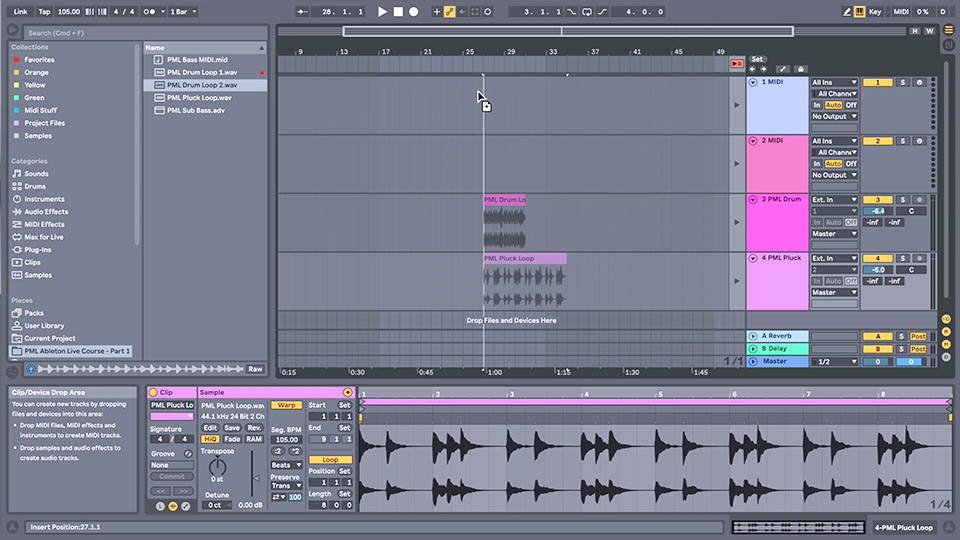 Learn what each Ableton tool does and how you can customise it for your individual needs. Ableton is extremely adaptive, so you can set up a workflow that feels natural. We show you how!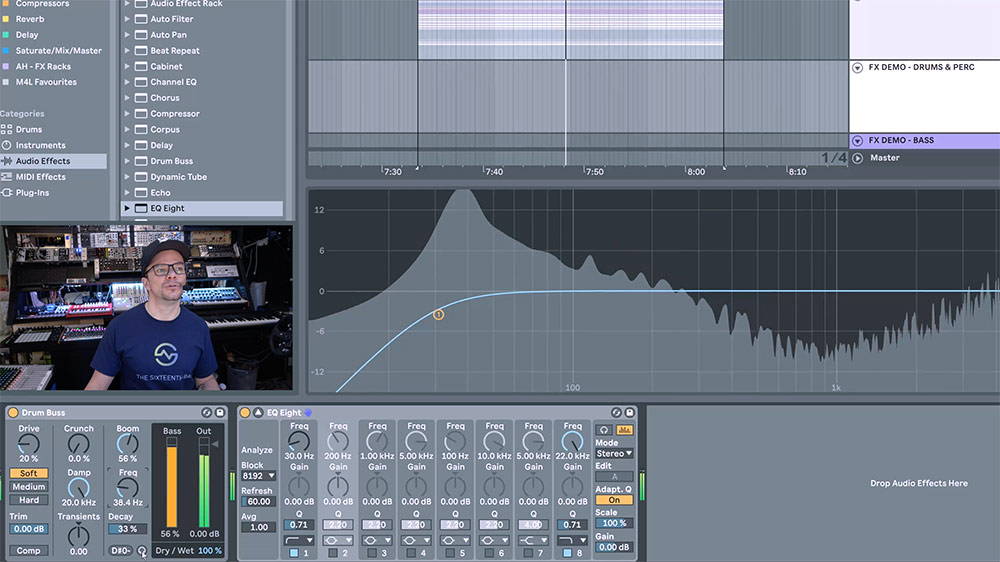 Ableton comes with a huge selection of built-in stock effects. PML tutor Attila shows you the 18 most important and useful audio & midi FX - what they do, when you use them and the best settings to start.
---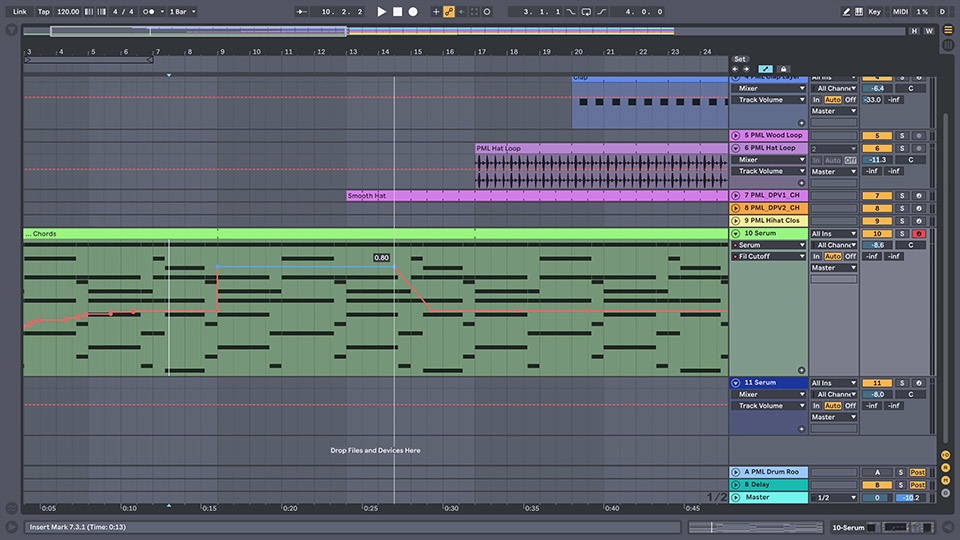 We start with an empty project and show you all steps in great detail so you truly understand what you need to do to produce your own track. We cover all topics from music theory, sound design, arranging your ideas to complete tracks and achieving pro sound.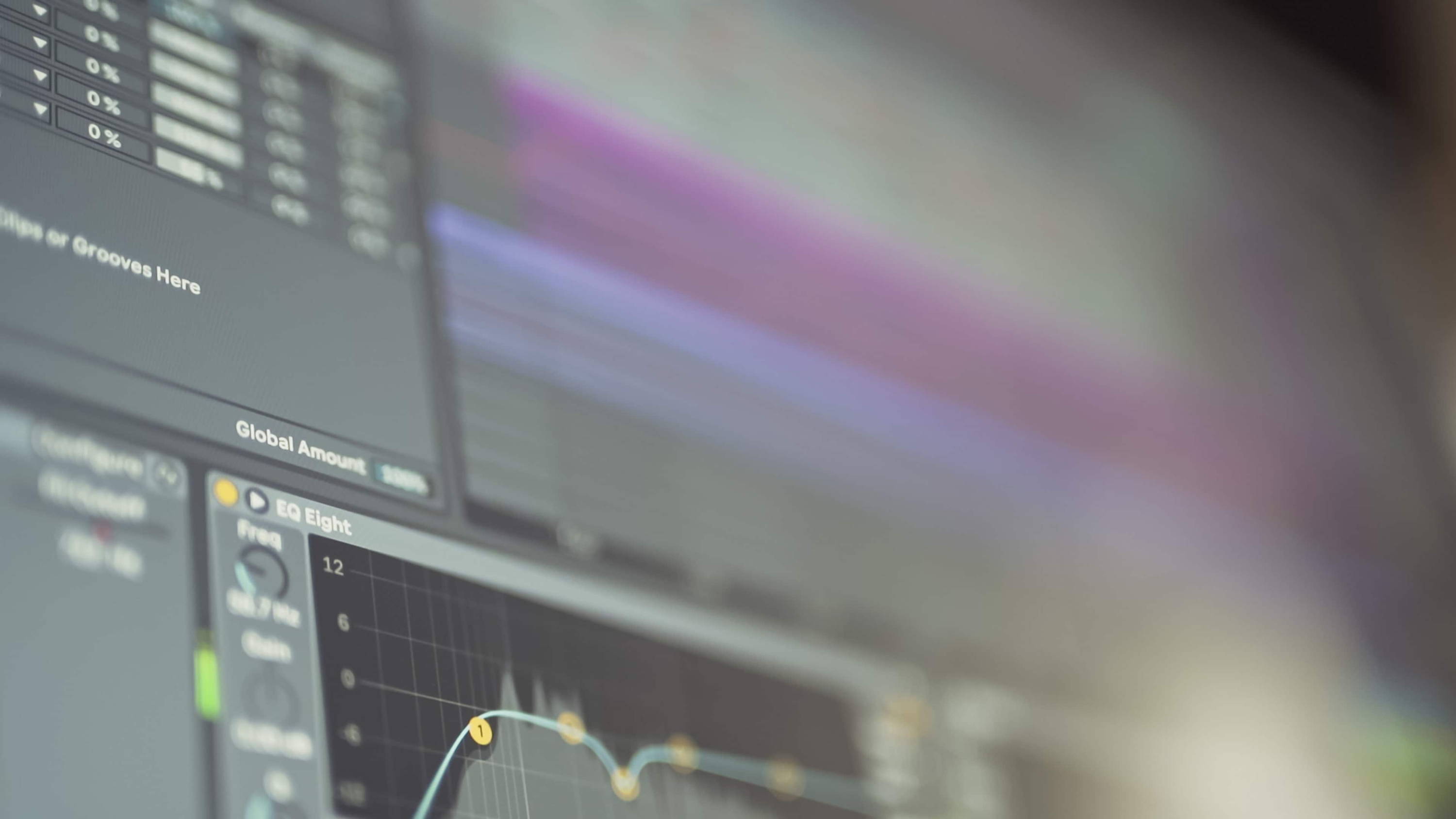 You will get instant access to the project file of the EXACT track we are producing together. That way you can follow along step by step not only in the video lesson, but on your laptop. Tip: use the project file as a ready mixed and mastered starting point for your first song!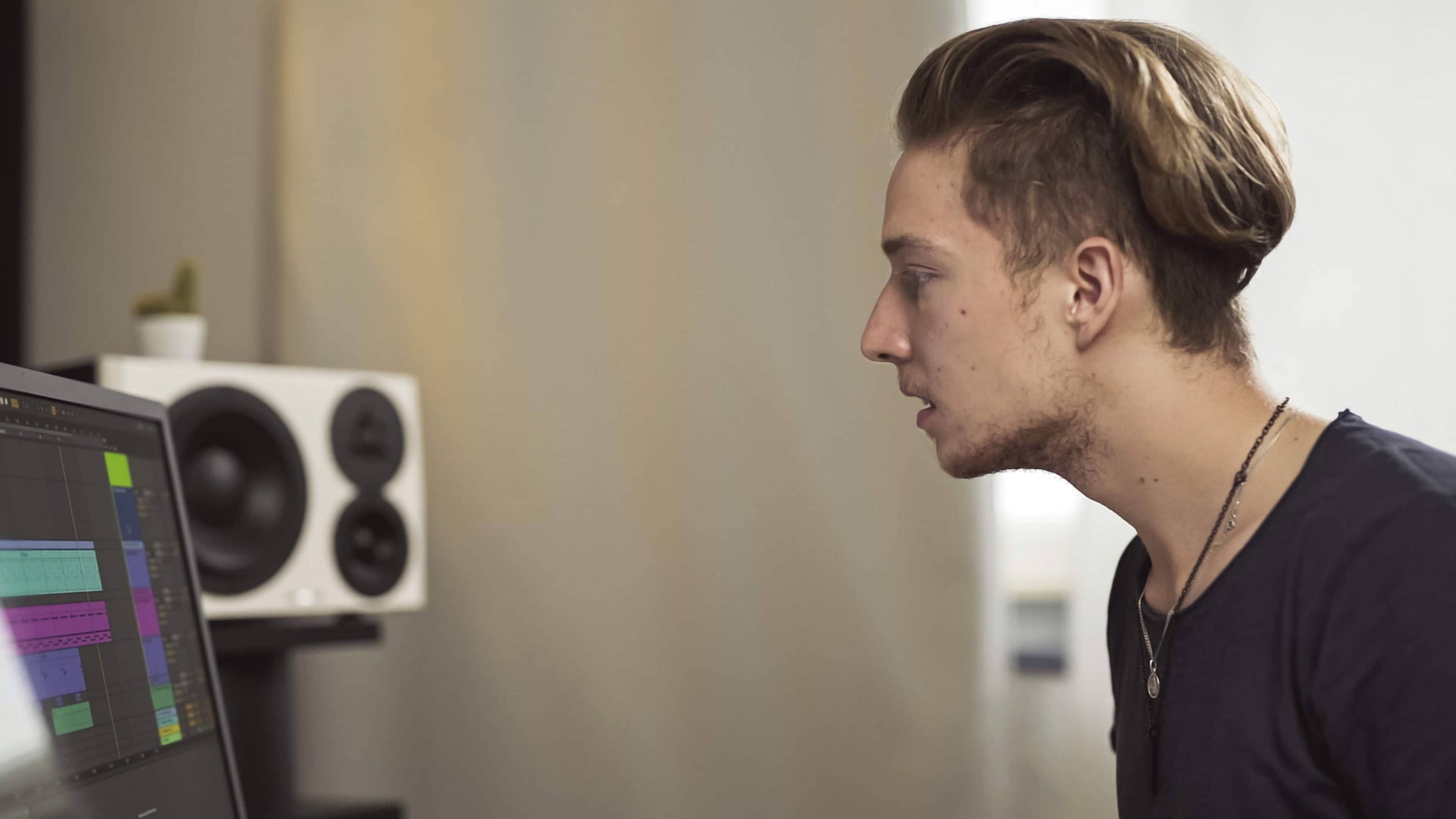 You get instant access to every video at once and can pause or rewatch every single lesson to learn at your own speed - as often as you want. The questionnaires will help you secure your learnings, so you know when you are ready to move on.
---
Our mixing engineer Guido from CatandBeats/Amsterdam will show you the whole process of professionally mixing a track - from opening the project to preparing it for mastering. More crispiness or more low end? This part of the class explains all best practice tools and techniques.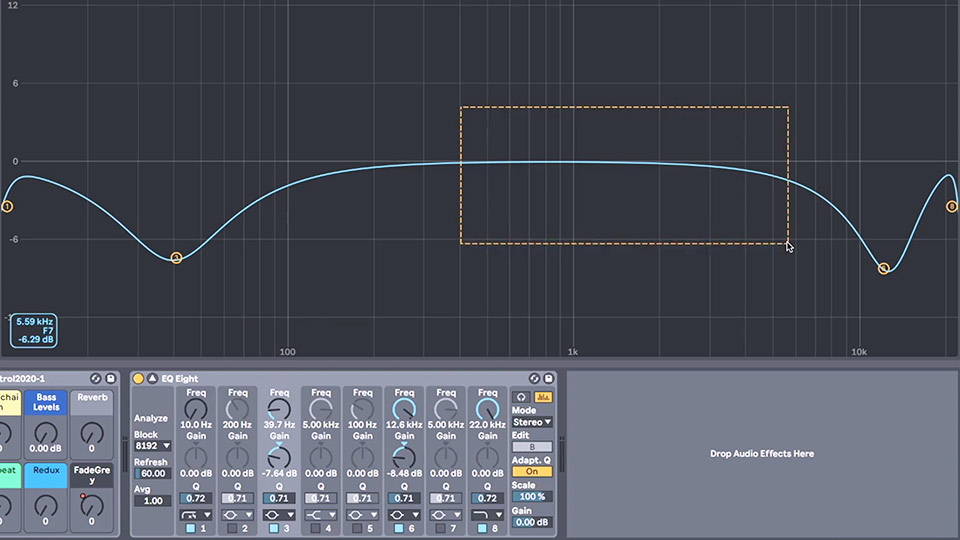 The process of mixing and mastering is closely connected with an engineers abilities to listen and eventually "feel" a song. But everybody can learn to do it! We show you techniques to listen to the right elements, use the right tools to achieve the right sound - every time!
Mastering is not only about making a track louder - but it is very important to achieve competitive levels for your tracks. Guido shows you effective compressor settings, EQing techniques and many little tricks from mixing thousands of tracks. Make your tracks sound professional!
---
Samples, Racks & Project Files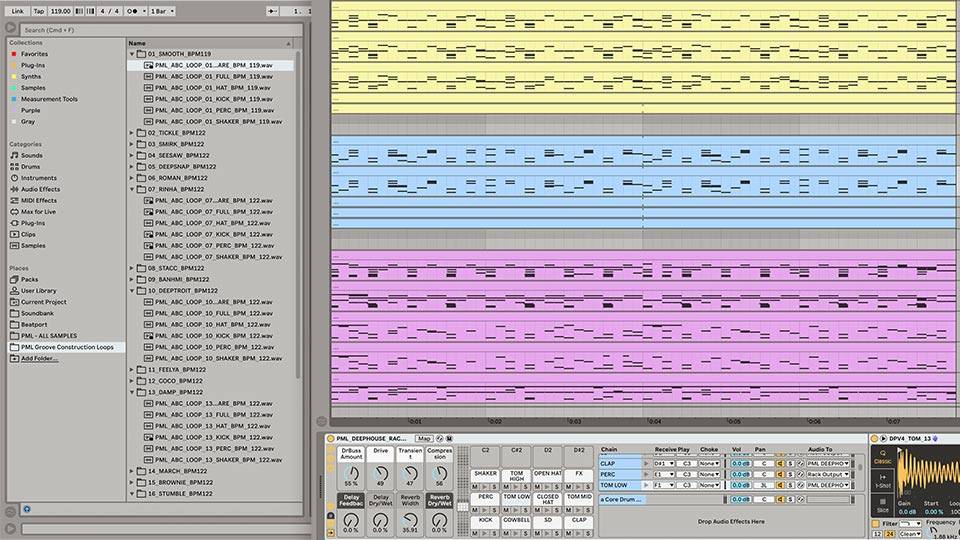 Premium Sample Collection

Over the years we have designed countless one shot samples and loops that just work. You get the perfect collection of our best samples and loops to sound great instantly. No wasting time looking for the right sounds - you got them right here!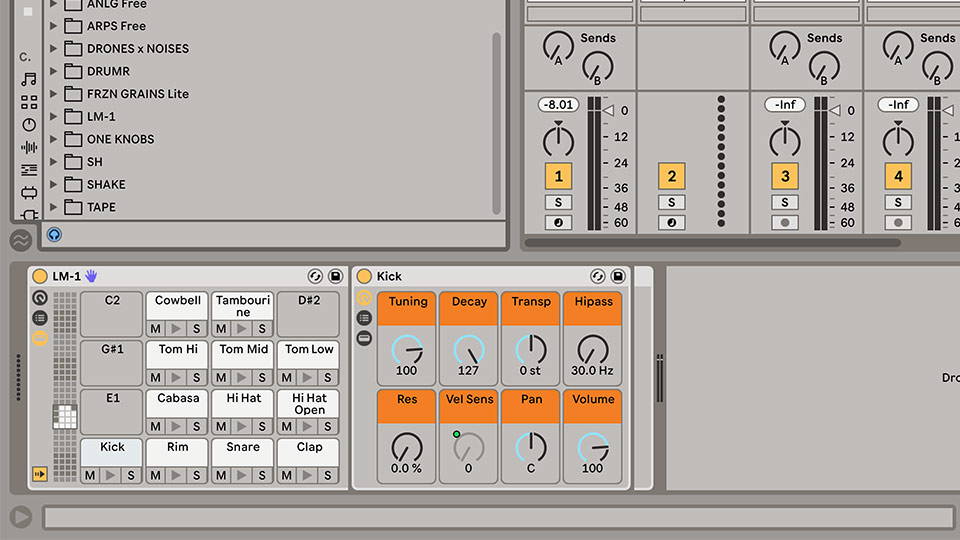 We created beginner friendly drum racks with matching samples already loaded in, so you get a big head start! Ableton certified trainer ELPHNT's best Ableton only FX & instrument racks are also included to give you access to professional tools, without having to buy expensive plugins.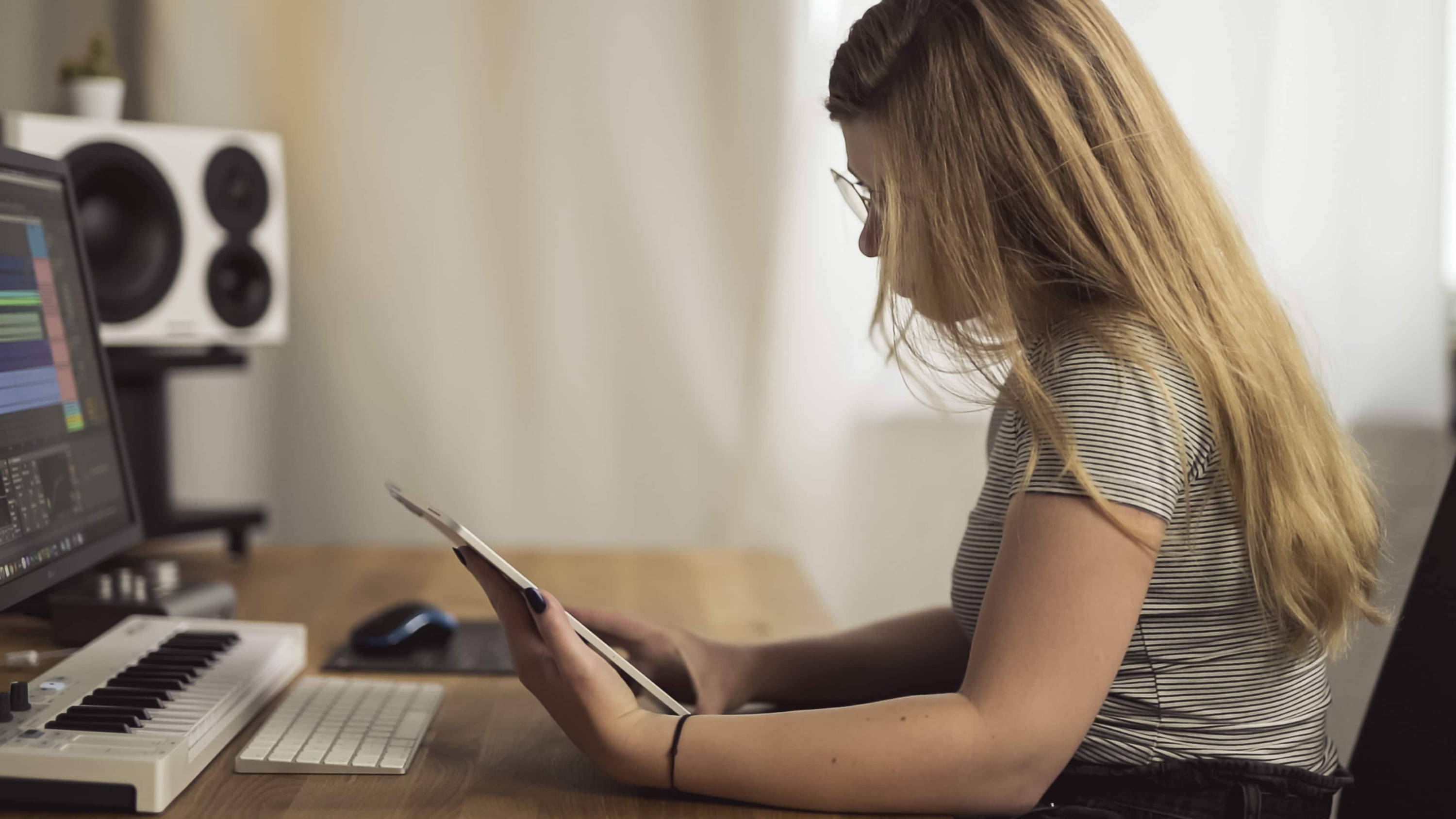 With the help of this E-Book you find out what you really need to start making music - and even more important what you don't need! It gives you info and hints what you want to look out for and what a perfectly adaptive system to start looks like.
---
---
Get Started here and now!
Learn everything step by s
Improve your skills in 83 online sessions - with project files, questionnaires and lifetime access. This class is designed to not only bring you up to speed, but to level you up drastically as a producer.

---
In this first part of the PML Ableton Beginner's Class you will get familiar with Ableton Live. We will explain the whole interface in great detail. Ableton will become your second home and you can focus on what you really want to do - making music!
We will guide you through the whole process of producing a professional sounding track - from a blank project to a finished master. You can pause and rewatch every single lesson and learn at your own speed as often as you want.
Guido from CatandBeats in Amsterdam will teach you how to listen to the right elements and frequencies, which tools and FX to use and how to polish your track to radio or club quality.
Ableton Audio & MIDI Effects
PML tutor Attila explains all important Ableton stock plugins in detail. He shows you what they do, what the best settings are and how they can be used creatively - all within Ableton and without having to buy anything else!
To sound professional right away you get a huge selection of samples, loops, Midis and instruments we created and improved over the years. With these sounds, you get our toolbox to sound great instantly.
---
---
---
---
---
---
---
100% money back guarantee for 5 days. No questions asked.
Instant and lifetime access to all 83 Lessons and Sound-packs.
More than 75% off compared to single price
---
Tip: You already bought some courses / packs and want to upgrade to the full pack? Get in touch for your custom offer!
---
---
---
---
Cut years off your learning curve
Make Music your first language
Get an intensive deep dive into one of the best music production tools out there! After this class you can finally focus on making music, because you know Ableton inside out. We share all our knowledge - so you will be familiar with the techniques professional producers use.
---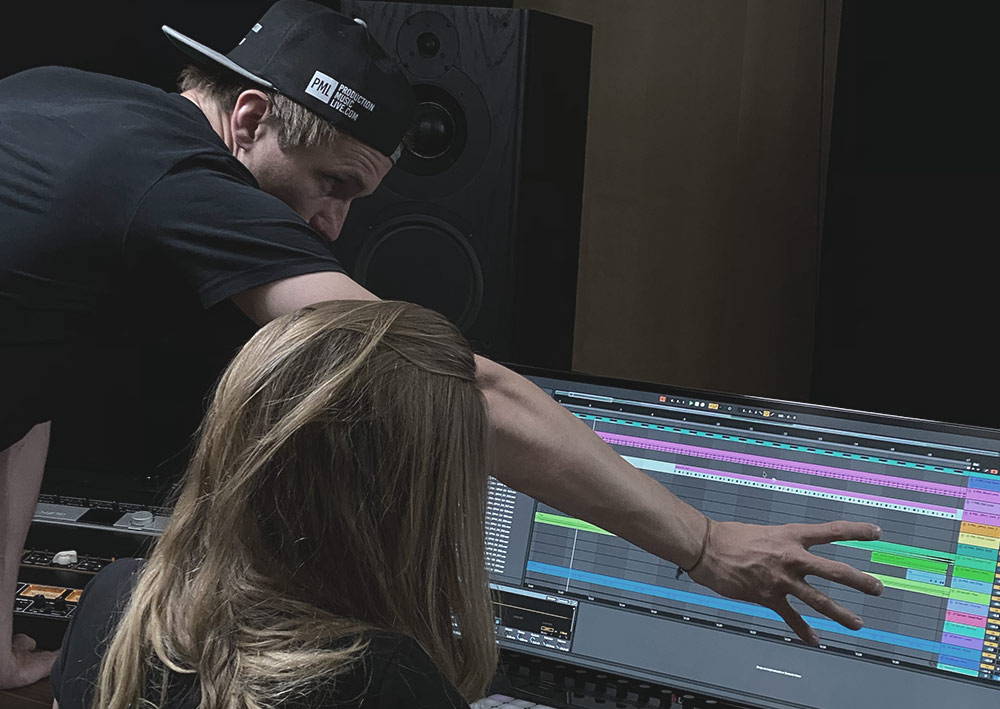 Francois, releasing artist for more than 20 years and founder of PML, teaches you everything you need to know to make music in Ableton Live.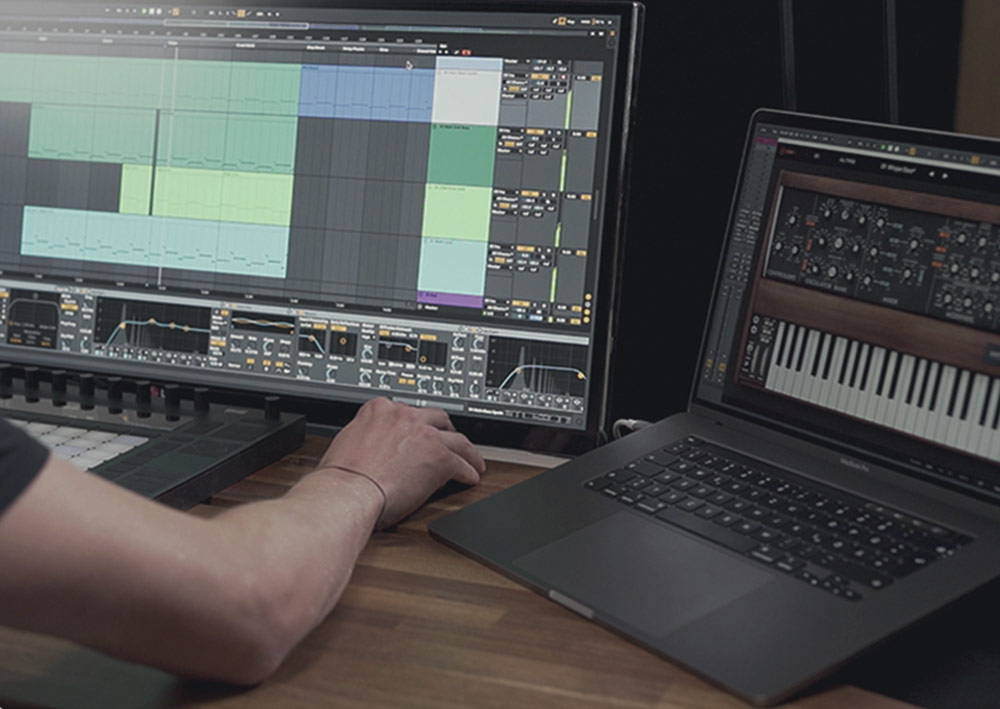 In 83 lessons your beginner's questions get answered in great detail. Learn at your own pace and whenever you want!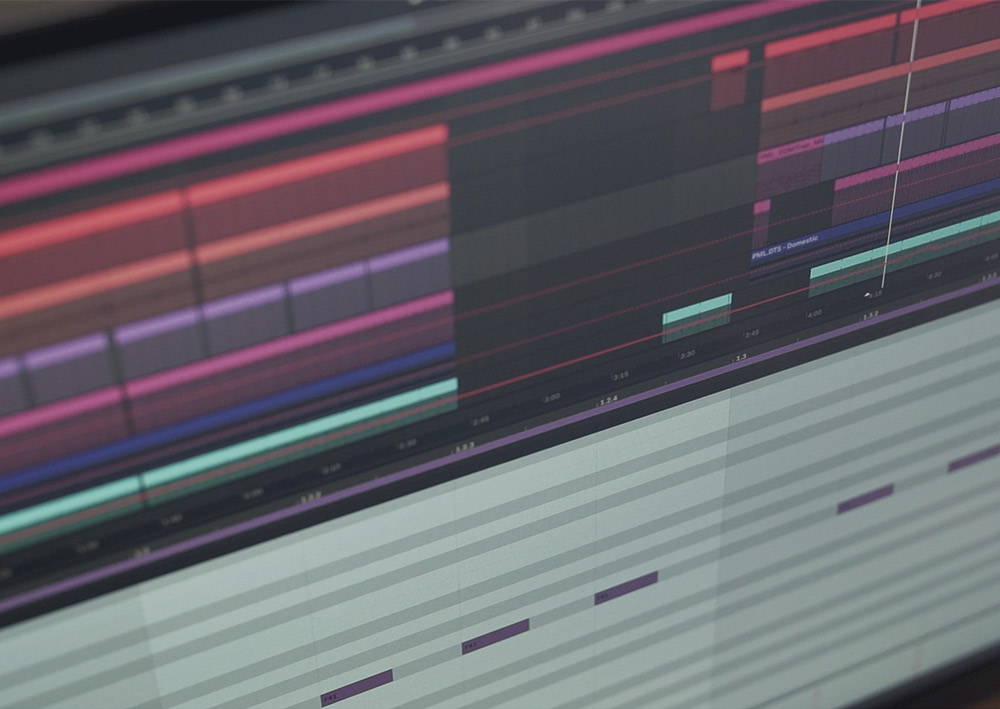 You get instant & full lifetime access to all courses and sounds with a risk-free 5 day refund period. Secure & easy!
---
---
---
Join more than 40,000 students and improve daily
Hear what the community says about PML
We are very happy and don't take it for granted to have such a great community spread across all these different channels. We love how you guys help each other out, review tracks and release killer tracks. Let's hear from some of you.
---
Johannes Menzel - Techno Producer from Berlin Germany
His song "Retaliate" got played by no one else than AMELIE LENS, UMEK, and many other top Techno DJs right now.
"When I heard the samples from the Deep Premium Pack II back in the day I was instantly hooked and knew I have never heard better sounding and better fitting drum samples for the sound I wanted to do, but could not quite get together. After I bought the first samples I fell in love with some synth presets, before I took all classes on sound design to make my own sounds. In the meantime we started cooperating and I have access to all sounds and samples (which is great), but I also contribute a lot of templates and samples myself. I am very happy for the opportunity to present my sounds to the big PML community and hope everybody out there now feel about my packs how I once felt."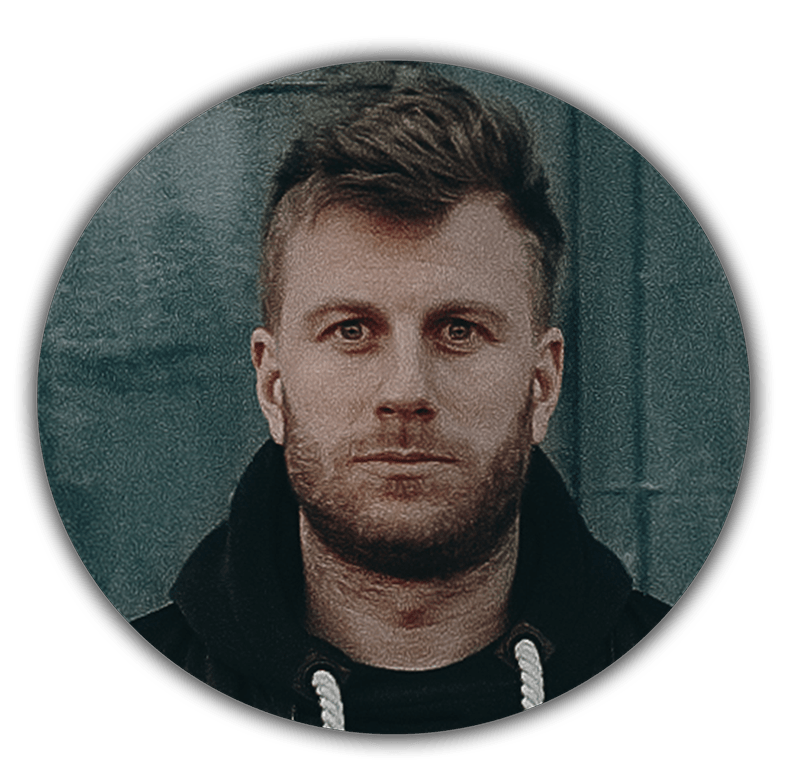 ---
"Hope you are doing well. I just finished your intro course on PML and the lesson was just great. I spent over 1000€ about 2 years ago at "XXX" and I came out with nothing. With 50€ that I paid for the course on PML I have 2 finished tracks within 2 days, something I have been trying to do for years. Thank you!"
KENNY
EMAIL
"For anyone wondering if buying the full PML package is worth it.. It is!! Incredible. You guys are the best. Thanks!"
JASON
YOUTUBE
"Bought the full bundle. Never bought anything before, but decided to widen/deepen my Ableton horizons, especially in more melodic techno styles. The courses are really STEP BY STEP. Looked everywhere to get me started in this genre: only PML offers it. I'm not being sponsored or anything: it's worth every dollar as inspiration (and "Savoir faire") is paramount."
LYSS
YOUTUBE
---
---
Frequently Asked Questions
---
When do the courses start and finish?
The courses start now and never end! These are completely self-paced online courses - you decide when you start and when you finish. You will receive all content instantly after signing up, and you have lifetime access and can go through the course whenever you'd like.
How long do I have access to the courses?
How does lifetime access sound? After enrolling, you have unlimited access to the courses for as long as you like - across any and all devices you own.
Do I need to own specific Software / Plugins / Packs?
This page contains a section called "What software is required on my computer?". It contains the specific info for this product. Make sure you have the mentioned necessary software, packs and plugins installed on your system.
If you're not completely sure, hit us with a quick email.
What if I am unhappy with my order?
We would never want you to be unhappy! If you are unsatisfied with your purchase, contact us in the first 5 days and we will give you a full refund. 100% money back guarantee. No questions asked.
Where will I be able to log into my course?
The courses are hosted on another server. Once you've bought a course, you'll be getting a mail saying "Redeem your copy of "Course …"". Follow the "Confirm your account" link in that mail and you will end up on the course-platform. There, you'll need to pick your password and log in. Your profile info will be already prepared for you. You can then always log in here:
If you already have a courses account, the new course will be added to your profile (assuming you buy it using the same email address associated with that account). If you have an account but buy a new course using a different email, get in touch and we will manually add it to your existing account.
There is one way of watching videos offline for example if you are travelling with an iPad and you are not always within reach of a stable internet connection: We have activated the option of MyTeachable accounts on our videos so you can watch videos offline through the "Teachable Online Courses" iOS App.
What if I have further questions?
We are available to help you with any questions, get in touch via: support@productionmusiclive.com

What software is required?
Software needed to follow All Courses:
Ableton Live 9.7 Standard or higher (+Operator)
NI Massive 1.3.xx
Xfer Serum 1.113 (or higher)
Sylenth1 3.02 (or higher)
Arturia MINI V3 (3.1.xx or higher - for "Analog" Courses)
Software needed for All Sounds Pack:
✓ Ableton Live 9 Standard or higher, Massive 1.3.xx or higher, Xfer Serum 1.113 or higher, Sylenth1 V3 or higher, Arturia MINI V3 or higher
✓ For the largest portion of the templates the minimum setup is Ableton Live 9 Standard + NI Massive 1.3.xx
✓ If you run into any CPU issues - we've been using 3rd gen intel i7's at around 30% - be sure to use freezing on some VST tracks just in case.
✓ Make sure to have the minimum software installed on your system for best use.
---