Course: Beginner to Advanced in Ableton Live - Music Production from Start To Finish
Sales Season Now! €48,50 €97,00
american express

maestro

master

paypal

unionpay

visa
One payment. Money Back Guarantee.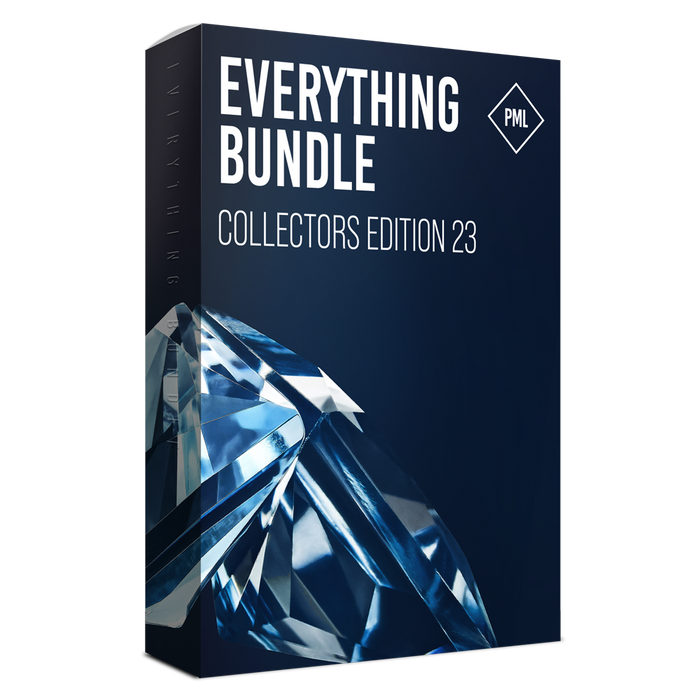 Everything Bundle - Collector's Edition 2023
Sales Season Now! €497,00 €994,00
Contains over

€9000

+ worth of sounds & courses.
Save 94% compared to buying single prices.
50+ Online Courses & Masterclasses including

Full 20h+ Masterclasses by Pro Artists
Full 15h+ Beginners & Music Theory Bundle
Full 15h+ Mixing & Mastering Bundle
Full Suite of START TO FINISH Courses

Melodic Techno & Techno,…
Deep House & Melodic House,…

All Sample & Preset Packs (25,000+ HQ Files)
100+ Ableton Projects (House, Techno, Melodic..)
All Bonuses and PDFs
200+ Hour Library of Exclusive Content
Everything you need with life-time access to your videos
*FL Studio products are not included in the Everything Bundle!
american express

maestro

master

paypal

unionpay

visa
One payment. Money Back Guarantee.
Join more than 40,000 students and improve daily
Hear what the community says about PML
We are very happy and don't take it for granted to have such a great community spread across all these different channels. We love how you guys help each other out, review tracks and release killer tracks. Let's hear from some of you.
Ben Böhmer
Ben Böhmer - Berlin based producer & live act. Cercle stream
"If you want to learn how to make a track in the style of my song 'Vale', then check out the course on Production Music Live. They explained everything using only Ableton Live and it's really, really interesting. Go check it out!"
Johannes Menzel
Johannes Menzel - Techno Producer from Berlin Germany His song "Retaliate" got played by no one else than AMELIE LENS, UMEK, and many other top Techno DJs right now.
"When I heard the samples from the Deep Premium Pack II back in the day I was instantly hooked and knew I have never heard better sounding and better fitting drum samples for the sound I wanted to do, but could not quite get together. After I bought the first samples I fell in love with some synth presets, before I took all classes on sound design to make my own sounds. In the meantime we started cooperating and I have access to all sounds and samples (which is great), but I also contribute a lot of templates and samples myself. I am very happy for the opportunity to present my sounds to the big PML community and hope everybody out there now feel about my packs how I once felt."
"Hope you are doing well. I just finished your intro course on PML and the lesson was just great. I spent over 1000€ about 2 years ago at "XXX" and I came out with nothing. With 50€ that I paid for the course on PML I have 2 finished tracks within 2 days, something I have been trying to do for years. Thank you!"
"For anyone wondering if buying the full PML package is worth it.. It is!! Incredible. You guys are the best. Thanks!"
"Bought the full bundle. Never bought anything before, but decided to widen/deepen my Ableton horizons, especially in more melodic techno styles. The courses are really STEP BY STEP. Looked everywhere to get me started in this genre: only PML offers it. I'm not being sponsored or anything: it's worth every dollar as inspiration (and "Savoir faire") is paramount."
What Artists Say About Us
"It's getting so much easier the last years because there are so many videos on Youtube to help you get started! Also channels like Production Music Live post some cool tips and tricks!"
- Amelie Lens
Belgian DJ and Record Producer when asked what she recommends for learning Ableton Live on Instagram
"Working with the samples from Polaroit was really inspiring, fun and quick. Especially the piano chords & progressions provide an instant idea for a whole track. The drum hits & loops blend in seamlessly."
- Janus Rasmussen
Producer / Artist (Kiasmos) said about the Polaroit Sample Pack
"There are so many inspirational ready to use sounds in there, that I am sure it is going to be useful to most electronic music producers!"
- Jonas Saalbach
Producer (Radikon) said about the Deep & Tech House Songstarters Suite
"If you want to learn how to make a track in the style of my song 'Vale', then check out the course on Production Music Live. They explained everything using only Ableton Live and it's really, really interesting. Go check it out!"
- Ben Böhmer
Berlin based producer & live act. @benbohmermusic
"The Kicks & Ambiences of this pack are amazing. You can create your main loop within minutes. Good job!"
- Oscar L
Producer / DJ (Suara, Toolroom) said about PML's Weska Sample Pack
"I regularly recommend PML to my audience. The quality and affordability of their courses is pretty hard to beat!"
- ELPHNT
Tutor / Ableton Certified Trainer
"I have been an underground Techno Girl forever, but of course I love to work with high quality samples & sounds to get better results quicker. PML stuff definitely helps!"
- Stine Benz
DJ / Producer @stinebenz
"When I heard the samples from the Deep Premium Pack II back in the day I was instantly hooked and knew I have never heard better sounding and better fitting drum samples for the sound I wanted to do."
- Johannes Menzel
Techno Producer from Berlin Germany His song "Retaliate" got played by no one else than AMELIE LENS, UMEK, and many other top Techno DJs right now. @johannes.berlin
"I had not only fun, but also good results working with Weska's Pack. Definitely check it out!"
- Bart Skils
Producer / DJ (Drumcode) said about PML's Weska Sample Pack
"When I produce a new track I spend hours recording little fillers and organic grooves or phrases that make a song unique. With Organica you have a professionally recorded and great sounding library of natural sounds at your fingertips."
- Felix Raphael
Producer & Live Act (Stil vor Talent, YION) said about our Organica Production Suite
"Stil vor Talent wanted to release a Sample Pack Collection for quite some time now. With PML we have found the right partner and with Cioz the perfect producer to kick off this series. When I got the first copy of the pack I was blown away by the usability of the samples and loops - every sound is inspiring!"
- Oliver Koletzki
Berlin-based artist, DJ and Stil vor Talent label-owner
Lifetime Access
Courses and sounds are yours forever. Learn at your own pace with no time limits!
Royalty Free
Samples and Loops are always royalty free. You can use them in your professional and personal projects.
Money Back Guaranteed
If you're not satisfied, get in touch within 5 days and we will offer a full refund.
Downloads and Offline
You will be sent a download link for your files, sounds and presets. Courses can be viewed offline through the Teachable app.
Course: Beginner to Advanced in Ableton Live - Music Production from Start To Finish
Options from €48,50 €97,00
Learn the foundations of Music Production from Beginner to Advanced using Ableton Live. Get Instant lifetime access to all included courses and sound packs. One-time-payment. Watch, re-watch at your own speed!
PML Product Number: PML103
Cut years off your learning curve
Make Music your first language
Get an intensive deep dive into one of the best music production tools out there! After this class you can finally focus on making music, because you know Ableton inside out. We share all our knowledge - so you will be familiar with the techniques professional producers use.
Your Tutor
Francois, releasing artist for more than 10 years and founder of PML, teaches you everything you need to know to make music in Ableton Live.
Your Lessons
In 90+ lessons your beginner's questions get answered in great detail. Learn at your own pace and whenever you want!
Your Access
You get instant & full lifetime access to all courses and sounds with a risk-free 5 day refund period. Secure & easy!
All you need to make great tracks
Tap into our knowledge & Use the sounds we use
This class is your one and only stop to learn professional music production in Ableton Live. Our tutors and producers share everything they know and every sound they build. So you can focus on getting ideas out of your head and on to Spotify.
Hands on Ableton
Interface Essentials
We will explain the whole interface in great detail: every knob, every function, every effect and everything else you need to know to produce your own tracks now! Nothing will be left untouched or unexplained.
Tools & Functions
Learn what each Ableton tool does and how you can customise it for your individual needs. Ableton is extremely adaptive, so you can set up a workflow that feels natural. We show you how!
Stock Effects
Ableton comes with a huge selection of built-in stock effects. PML tutor Attila shows you the 18 most important and useful audio & midi FX - what they do, when you use them and the best settings to start.
Start to Finish: 2 Full Online Courses
Start to Finish
We start with an empty project and show you all steps in great detail so you truly understand what you need to do to produce your own track. We cover all topics from music theory, sound design, arranging your ideas to complete tracks and achieving pro sound.
Project File
You will get instant access to the project file of the EXACT track we are producing together. That way you can follow along step by step not only in the video lesson, but on your laptop. Tip: use the project file as a ready mixed and mastered starting point for your first song!
Individual Learning
You get instant access to every video at once and can pause or rewatch every single lesson to learn at your own speed - as often as you want. The questionnaires will help you secure your learnings, so you know when you are ready to move on.
The Track We Produce Start to Finish in Ableton Live 11
The Track We Produce in Start to Finish with Serum
Mixing and Mastering
The Basics
Our mixing engineer Guido from CatandBeats/Amsterdam will show you the whole process of professionally mixing a track - from opening the project to preparing it for mastering. More crispiness or more low end? This part of the class explains all best practice tools and techniques.
Learn to Listen
The process of mixing and mastering is closely connected with an engineers abilities to listen and eventually "feel" a song. But everybody can learn to do it! We show you techniques to listen to the right elements, use the right tools to achieve the right sound - every time!
Louder?
Mastering is not only about making a track louder - but it is very important to achieve competitive levels for your tracks. Guido shows you effective compressor settings, EQing techniques and many little tricks from mixing thousands of tracks. Make your tracks sound professional!
Bonus: Samples, Racks & Project Files
500+ Premium Samples Included
Over the years we have designed countless one shot samples and loops that just work. You get the perfect collection of our best samples and loops to sound great instantly. No wasting time looking for the right sounds - you got them right here!
15+ Ableton Project Files and Racks
We created beginner friendly drum racks with matching samples already loaded in, so you get a big head start! Ableton certified trainer ELPHNT's best Ableton only FX & instrument racks are also included to give you access to professional tools, without having to buy expensive plugins.
E-Book
With the help of this E-Book you find out what you really need to start making music - and even more important what you don't need! It gives you info and hints what you want to look out for and what a perfectly adaptive system to start looks like.
Included Ableton Project Files
Preview the tracks included as Ableton Project Files
Deconstruct Ready-to-Release Tracks
Professionally Produced Tracks as Ableton Project Files to analyze, alter, and jump start your own music. Each template is packed with loops, presets, Midi and more
Pick up tricks and skills, save valuable time. Apply the same techniques to your own productions right away.
Amazingly detailed automation techniques and fx will keep your arrangement flowing and interesting for long term listening pleasure.
Sample Previews
Preview some of the Sounds Included in this Course
Get Started here and now!
Curriculum
Improve your skills in 90+ online sessions - with project files, questionnaires and lifetime access. This class is designed to not only bring you up to speed, but to level you up drastically as a producer.
Join 10,000+ Students
"I've been a member of your courses for a bit over a year now and really really enjoying it. I've enrolled to a couple of courses, and your methodology is clear, instructive, and creative and really helps me to get on with my production.
I've surfed the Internet over and over and nothing comes close to your courses, so thumbs up, and keep up the good work!"
- Claude
"Your courses and tutorials are the best I've seen. And I've been taking classes here and there for more time than I care to admit. You have made the obstacles of music theory, compression, side chaining, eq, far more easier to understand. The fact that you use all Ableton effects makes the tutorials even better. Will be taking more lessons when I can afford it and have the time."
-Reggie.
"Just completed the "Deep House Track start to Finish" - Course and wanted to say it's excellent - well done! Best course I've done by a mile.
I learned masses, especially motivating as the track itself is a great piece of music. Francois your tuition is smart, concise and you always have the learner in mind. Also really liked your approach to production and impressed with your knowledge of both production and theory.
Thanks and keep up the good work!""
- Simon (Tokyo)
FAQs and Requirements
When does the course start and finish?
The course starts now and never ends! It is a completely self-paced online course - you decide when you start and when you finish.
How long do I have access to the courses?
How does lifetime access sound? After enrolling, you have unlimited access to the courses for as long as you like - across any and all devices you own.
What type of audio files are the samples?
24bit 44.1K WAV Files
What if I am unhappy with my order?
We would never want you to be unhappy! If you are unsatisfied with your purchase, contact us in the first 48 hours and we will give you a full refund - due to the digital download nature of the optional sound packs, we can only refund the courses parts. No refund on bulk / pack orders. One refund per person.
How do I access course files, if any are included?
If you're getting the basic course option, a download link will be provided above or below the video of the first or second lecture of the course (usually named 'Setup & Downloads'). In case you're getting the course with one of the pack options, the additional packs will be delivered to you via email.
Where will I be able to log into my course?
The courses are hosted on another server. Once you've bought a course, you'll be getting a mail saying "Redeem your copy of "Course …"". Follow the "Confirm your account" link in that mail and you will end up on the course-platform. There, you'll need to pick your password and log in. Your profile info will be already prepared for you. You can then always log in here:

PML Courses Login.
If you already have a courses account, the new course will be added to your profile (assuming you buy it using the same email address associated with that account). If you have an account but buy a new course using a different email, get in touch and we will manually add it to your existing account.

There is one way of watching videos offline for example if you are travelling with an iPad and you are not always within reach of a stable internet connection: We have activated the option of MyTeachable accounts on our videos so you can watch videos offline through the "Teachable Online Courses" iOS App.
I already own some courses/packs. Can I upgrade?
You already bought some courses / packs and want to upgrade? Get in touch for your custom offer!
Will future courses be automatically added to my bundle?
The bundle is a snapshot including the available courses and packs at the time of your purchase. Future courses / packs will not be automatically included.
Is this a subscription to future products?
No. This is a one time payment for the courses/packs currently included in the bundle
What if I have further questions?
We are available to help you with any questions, get in touch via: support@productionmusiclive.com
Ableton Live Suite 11.0 or Higher
Xfer Serum (Only required for Part 5)