All Courses Bundle - Complete Music Production Academy
Sales Season Now! €348,50 €697,00
Full 15h+ Masterclasses by Pro Artists
Full 10h+ Beginners& Music Theory Bundle
Full 10h+ Mixing& Mastering Bundle
Full Suite of START TO FINISH Courses

Melodic Techno & Techno,…
Deep House & Melodic House,…

100% money back guarantee for 5 days. No questions asked.
Learn Ableton Live and start making pro quality music.
Easy to follow step by step instructions and lifetime access without wasting your time!

Tip: You already bought some courses / packs and want to upgrade to the full pack? Get in touch for your custom offer!

Includes all new courses released until the end the year 2023>
american express

maestro

master

paypal

unionpay

visa
One payment. Money Back Guarantee.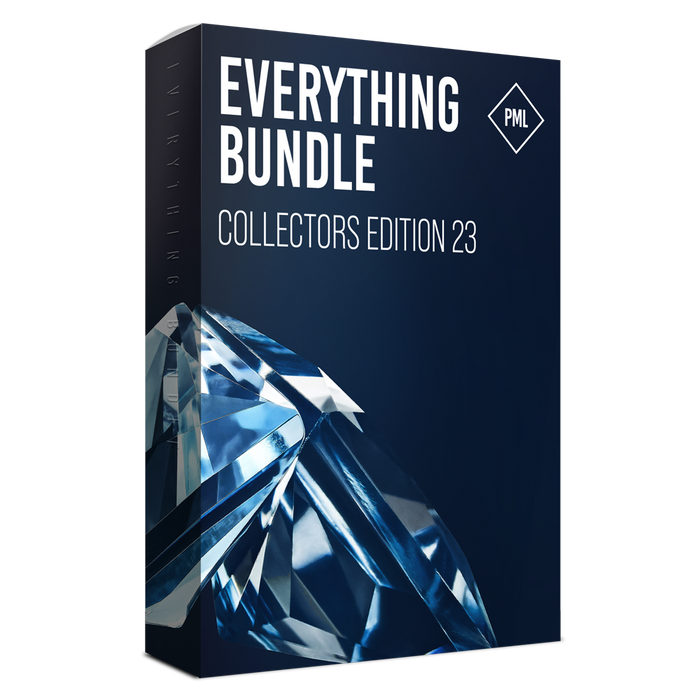 Everything Bundle - Collector's Edition 2023
Sales Season Now! €497,00 €994,00
Contains over

€9000

+ worth of sounds & courses.
Save 94% compared to buying single prices.
50+ Online Courses & Masterclasses including

Full 20h+ Masterclasses by Pro Artists
Full 15h+ Beginners & Music Theory Bundle
Full 15h+ Mixing & Mastering Bundle
Full Suite of START TO FINISH Courses

Melodic Techno & Techno,…
Deep House & Melodic House,…

All Sample & Preset Packs (25,000+ HQ Files)
100+ Ableton Projects (House, Techno, Melodic..)
All Bonuses and PDFs
200+ Hour Library of Exclusive Content
Everything you need with life-time access to your videos
*FL Studio products are not included in the Everything Bundle!
american express

maestro

master

paypal

unionpay

visa
One payment. Money Back Guarantee.
Join more than 40,000 students and improve daily
Hear what the community says about PML
We are very happy and don't take it for granted to have such a great community spread across all these different channels. We love how you guys help each other out, review tracks and release killer tracks. Let's hear from some of you.
Ben Böhmer
Ben Böhmer - Berlin based producer & live act. Cercle stream
"If you want to learn how to make a track in the style of my song 'Vale', then check out the course on Production Music Live. They explained everything using only Ableton Live and it's really, really interesting. Go check it out!"
Johannes Menzel
Johannes Menzel - Techno Producer from Berlin Germany His song "Retaliate" got played by no one else than AMELIE LENS, UMEK, and many other top Techno DJs right now.
"When I heard the samples from the Deep Premium Pack II back in the day I was instantly hooked and knew I have never heard better sounding and better fitting drum samples for the sound I wanted to do, but could not quite get together. After I bought the first samples I fell in love with some synth presets, before I took all classes on sound design to make my own sounds. In the meantime we started cooperating and I have access to all sounds and samples (which is great), but I also contribute a lot of templates and samples myself. I am very happy for the opportunity to present my sounds to the big PML community and hope everybody out there now feel about my packs how I once felt."
"Hope you are doing well. I just finished your intro course on PML and the lesson was just great. I spent over 1000€ about 2 years ago at "XXX" and I came out with nothing. With 50€ that I paid for the course on PML I have 2 finished tracks within 2 days, something I have been trying to do for years. Thank you!"
"For anyone wondering if buying the full PML package is worth it.. It is!! Incredible. You guys are the best. Thanks!"
"Bought the full bundle. Never bought anything before, but decided to widen/deepen my Ableton horizons, especially in more melodic techno styles. The courses are really STEP BY STEP. Looked everywhere to get me started in this genre: only PML offers it. I'm not being sponsored or anything: it's worth every dollar as inspiration (and "Savoir faire") is paramount."
What Artists Say About Us
"It's getting so much easier the last years because there are so many videos on Youtube to help you get started! Also channels like Production Music Live post some cool tips and tricks!"
- Amelie Lens
Belgian DJ and Record Producer when asked what she recommends for learning Ableton Live on Instagram
"Working with the samples from Polaroit was really inspiring, fun and quick. Especially the piano chords & progressions provide an instant idea for a whole track. The drum hits & loops blend in seamlessly."
- Janus Rasmussen
Producer / Artist (Kiasmos) said about the Polaroit Sample Pack
"There are so many inspirational ready to use sounds in there, that I am sure it is going to be useful to most electronic music producers!"
- Jonas Saalbach
Producer (Radikon) said about the Deep & Tech House Songstarters Suite
"If you want to learn how to make a track in the style of my song 'Vale', then check out the course on Production Music Live. They explained everything using only Ableton Live and it's really, really interesting. Go check it out!"
- Ben Böhmer
Berlin based producer & live act. @benbohmermusic
"The Kicks & Ambiences of this pack are amazing. You can create your main loop within minutes. Good job!"
- Oscar L
Producer / DJ (Suara, Toolroom) said about PML's Weska Sample Pack
"I regularly recommend PML to my audience. The quality and affordability of their courses is pretty hard to beat!"
- ELPHNT
Tutor / Ableton Certified Trainer
"I have been an underground Techno Girl forever, but of course I love to work with high quality samples & sounds to get better results quicker. PML stuff definitely helps!"
- Stine Benz
DJ / Producer @stinebenz
"When I heard the samples from the Deep Premium Pack II back in the day I was instantly hooked and knew I have never heard better sounding and better fitting drum samples for the sound I wanted to do."
- Johannes Menzel
Techno Producer from Berlin Germany His song "Retaliate" got played by no one else than AMELIE LENS, UMEK, and many other top Techno DJs right now. @johannes.berlin
"I had not only fun, but also good results working with Weska's Pack. Definitely check it out!"
- Bart Skils
Producer / DJ (Drumcode) said about PML's Weska Sample Pack
"When I produce a new track I spend hours recording little fillers and organic grooves or phrases that make a song unique. With Organica you have a professionally recorded and great sounding library of natural sounds at your fingertips."
- Felix Raphael
Producer & Live Act (Stil vor Talent, YION) said about our Organica Production Suite
"Stil vor Talent wanted to release a Sample Pack Collection for quite some time now. With PML we have found the right partner and with Cioz the perfect producer to kick off this series. When I got the first copy of the pack I was blown away by the usability of the samples and loops - every sound is inspiring!"
- Oliver Koletzki
Berlin-based artist, DJ and Stil vor Talent label-owner
Lifetime Access
Courses and sounds are yours forever. Learn at your own pace with no time limits!
Royalty Free
Samples and Loops are always royalty free. You can use them in your professional and personal projects.
Money Back Guaranteed
If you're not satisfied, get in touch within 5 days and we will offer a full refund.
Downloads and Offline
You will be sent a download link for your files, sounds and presets. Courses can be viewed offline through the Teachable app.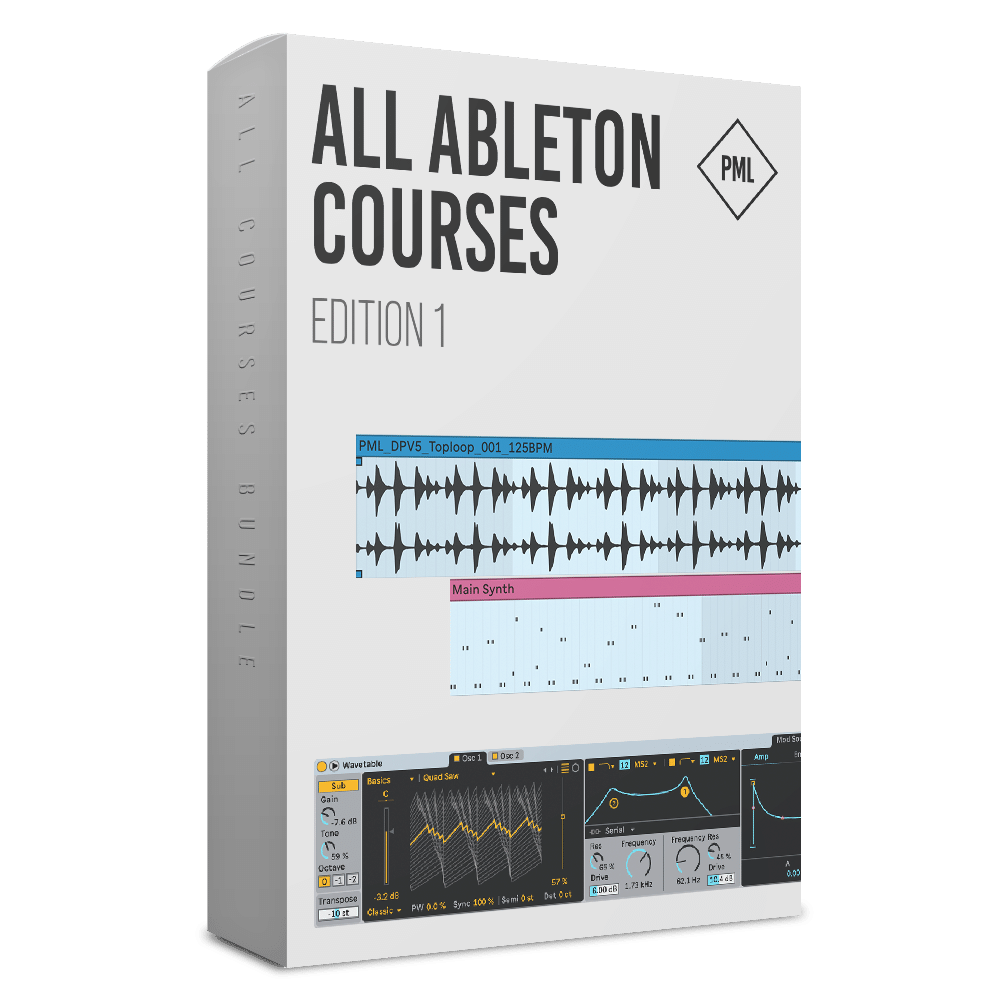 All Courses Bundle - Complete Music Production Academy
Options from €348,50 €697,00
50+ Courses in 4 Different Modules from Beginner to Advance in easy, step by step instructions. Everything you need to fast track your development to making professional quality music.
⭐️30 Day Money Back Guarantee
PML Product Number: PML201
50+ Courses:
Take Your Producing to the Next Level
From Beginner Courses to Masterclasses by Professional Artists, get all* the courses in our catalog right now and new releases through the end of the year!
*FL Studio and Logic Courses not included.
All the Education You Need
Everything you need to learn to produce your first release. Lifetime access to 40+ full-length online courses covering Ableton Live, Sound Design, Music Theory, Producing Tracks Start to Finish and More!
Pro Sounds Included
Our courses come with synth presets, samples, templates and more to get you going with new music from what you learn. Use a start to finish course as jumping off point for your first release!
Save Big!
Save thousands compared to when buying separately! This is our best offer if you want to get all the courses in the store.
Start to Finish Courses and Academies
In these step-by-step music production lessons we are making complete tracks from scratch in different genres using only Ableton Live and a maximum of one more external synth VST plugin (usually Serum or Massive).
Learn Songwriting and Music Theory
If your melodies, chord changes or arrangements aren't working, your tracks won't work, no matter how good your other producing skills are. These courses are designed for electronic music producers - we are going to take the perspective of someone working inside a DAW (Digital Audio Workstation)
Featured Course:
Released: April 20th 2023
13.5h+ Hours Of Practical Theory & 300+ Midi Pack
This practical music theory and harmony bundle is the ultimate guide to understanding the inner workings of melodic house and techno. Through a combination of theoretical concepts and practical application, you'll learn essential theory/harmony concepts and tricks to use in everyday production.
Featured Course:
This Arrangement Course will help you finish more songs faster, we show you the structures and secrets behind building successful songs.
Sound Design for Today's Biggest Synths
In these courses, you'll learn both sound design techniques and get fully comprehensive lessons on how to use the top synthesizers on the market today.
Featured Course:
Learning synthesis and sound design with Uhe Diva (Beginner & Intermediate Level). You will learn the basics of synthesis with DIVA Wavetable oscillators, Diva's interface, signal flow, modulation oscillators, noise generators filtering / filter types Effects + Much More. See below!
Mixing and Mastering
Take your tracks to the next level with a polished mixes up to industry level loudness. These courses are taught by professional mixing and mastering engineers who will show you their tricks and techniques to getting a professional sound.
Featured Template:
Learn From A Professional Engineer Starting from a blank project to a fully produced, mixed and mastered track. Mixing Engineer Guido Werner takes our track "Desert" and performs professional mixing and mastering on it using the best plugins for the job.
Masterclasses by Professional Artists
Our tutors and producers share everything they know and every sound they build. So you can focus on getting ideas out of your head and on to Spotify.
In this Masterclass, Jimi Jules provides a complete shift of perspective by focusing on the creative process and his workflow of carving ideas out of what first seems to be a chaotic musical mess. "With me you'll learn to listen to your ideas rather than specific EQ settings" - Jimi Jules
Jonas invited PML to his studio in Berlin Funkhaus to share an intimate look in his production process and the outboard gear he uses.
Trailer: Jonas Saalbach Masterclass
We are sitting down with Ben in the studio in Berlin, taking a closer look into his production process, idea generation, how he writes chords and melodies as well as him sharing his favourite effects and processing techniques.
Ben Böhmer: Writing A Track From Scratch
What Students Are Saying
Take Your Music to the Next Level
30-Day Money-Back Guarantee
If you are unsatisfied with your purchase we offer a 30-day money-back guarantee on the Everything Bundle. One refund per person.
FAQs and Requirements
Is this a subscription to future products?
No. This is a one time payment for the courses/packs currently included in the bundle
When does the course start and finish?
The course starts now and never ends! It is a completely self-paced online course - you decide when you start and when you finish.
How long do I have access to the courses?
How does lifetime access sound? After enrolling, you have unlimited access to the courses for as long as you like - across any and all devices you own.
Do I need to own specific Software / Plugins / Packs?
This bundle is based around Ableton Live. You don't need it to watch the courses but it is ideal to have :) If you have any questions, hit us with a quick email.
What if I am unhappy with my order?
We would never want you to be unhappy! If you are unsatisfied with your purchase, contact us in the first 48 hours and we will give you a full refund - due to the digital download nature of the optional sound packs, we can only refund the courses parts. No refund on bulk / pack orders. One refund per person.
How do I download files?
After purchase you will receive an email with your personal download link - it will be sent to the email you use for the purchase. If you don't see it, quickly check your spam folder and if you have any issues, email support@productionmusiclive.com.
What type of audio files are the samples?
24bit 44.1K WAV Files
License: Can I release this without any edits?
This is not possible. All rights not expressly granted to the user are reserved. See our Licensing Agreement for further info. For commercial license, E-Mail us.
How do I access course files, if any are included?
If you're getting the basic course option, a download link will be provided above or below the video of the first or second lecture of the course (usually named 'Setup & Downloads'). In case you're getting the course with one of the pack options, the additional packs will be delivered to you via email.
Where will I be able to log into my course?
The courses are hosted on another server. Once you've bought a course, you'll be getting a mail saying "Redeem your copy of "Course …"". Follow the "Confirm your account" link in that mail and you will end up on the course-platform. There, you'll need to pick your password and log in. Your profile info will be already prepared for you. You can then always log in here:
If you already have a courses account, the new course will be added to your profile (assuming you buy it using the same email address associated with that account). If you have an account but buy a new course using a different email, get in touch and we will manually add it to your existing account.
There is one way of watching videos offline for example if you are travelling with an iPad and you are not always within reach of a stable internet connection: We have activated the option of MyTeachable accounts on our videos so you can watch videos offline through the "Teachable Online Courses" iOS App.
I already own some courses/packs. Can I upgrade?
You already bought some courses / packs and want to upgrade? Get in touch for your custom offer!
Will future courses be automatically added to my bundle?
Yes! The All Courses Bundle will include all new courses released until the end the year, 2023. You'll get new products as soon as they are released!
What if I have further questions?
We are available to help you with any questions, get in touch via: support@productionmusiclive.com
Courses
No specific software is required to watch our courses. If you want to produce alongside Start to Finish courses, below you can find an overview of the different software we use. Most courses only require Ableton Live + one third party VST synth.
Software Used In Our Courses
Ableton Live 11 Standard (or higher)- 35+ Courses

Used in all Start to Finish courses.
Note: Select courses require elements from Ableton 11 Suite (Operator + Wavetable)
Xfer Serum 1.113 (or higher) - 3 Courses

Tech House Start to Finish
Melodic Progressive House Start to Finish
Pop Start to Finish

U-He Diva VST/AU v1.4.1 (or higher) - 1 Courses

Melodic House Start to Finish Vol. 2

Arturia MINI V3 3.1.xx (or higher) - 1 Courses

Analog Melodic Techno Start to Finish

NI Massive 1.3.xx (or Higher) - 5 Courses

Melodic Techno Start to Finish
High Tech Minimal Start to Finish
Deep House Start to Finish
Progressive House Start to Finish
Future Bass Start to Finish
All Courses 2023 Edition Contents
New Products (Added in {{this.releaseYear}})
{{product.node.title}}
{{product.node.catalogDescription.value}}
Courses
Songwriting Courses
{{product.node.title}}
{{product.node.catalogDescription.value}}
Start to Finish
{{product.node.title}}
{{product.node.catalogDescription.value}}
Sound Design
{{product.node.title}}
{{product.node.catalogDescription.value}}
Mixing and Mastering
{{product.node.title}}
{{product.node.catalogDescription.value}}
Masterclasses
{{product.node.title}}
{{product.node.catalogDescription.value}}
Legacy Courses
{{course.title}}
{{course.inside}}